The reference book to surf your best.
Secrets to progressive surfing explains in detail all surfing fundamentals and techniques leading to surf progression.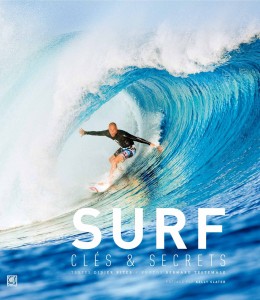 The work on the book starts back in 2007, as Didier PITER regularly analyses photo sequences from Bernard Testemale for Trip surf and Surf session magazines.
As Didier follows his formation and multiplies his surf coaching experiences, Bernard produces a superb portfolio through his many trips around the world.
After two years of writting and photo production, "Secrets to progressive surfing" is released in may 2010, with Surf Session editions.
The book teaches you everything you need to know about the waves,  the way to use them and the right techniques to surf your best.
Add to this the foreword and sequences from the most complete surfer of all himself, Kelly Slater, and you have the book you need to boost your surfing.
Straight from its launch, the book becomes the European reference of Surf books.
Translated in English in 2012, "Secrets to progressive Surfing" is now sold all across the planet.
Order your signed copy of "Secrets to progressive surfing"